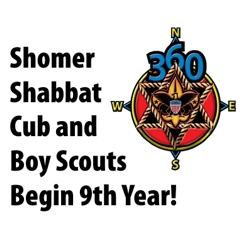 Shomer Shabbat Cub and Boy Scouts begin 9th year!
Chartered by Beth Jacob Congregation of Beverly Hills, Pack and Troop 360 activities are Shabbat and Jewish holiday compatible.  We meet several times per month and boys participate as time permits.   Last year, over 60 Jewish boys from, Etz Jacob, Hillel, Horace Mann, Maimonides, Ohr Eliyahu, Pressman Academy, Shalhevet, Sinai Academy, Yavneh, and many other Jewish and public schools joined in the fun.
Kick off meeting:
Sunday September 13, 2009
4 – 5:30 PM
Beth Jacob Congregation
9030 West Olympic Boulevard (at Doheny).
Pizza Dinner Served; Free Flashlights to New Members
Boys and parents invited.
Siblings, Moms, and Dads are invited to most events. Dues are $75 and include membership in Pack or Troop 360 and in the national organization; a one year subscription to Boy's Life Magazine, all awards, merit badges, belt loops, and pins earned. Uniforms are about $65 additional. Financial assistance available.

For more information, contact
Tentative 2009-2010 calendar (dens and troops may add to this schedule):
Partial 2009-2010 calendar (dens and troops may add to this schedule):
Sunday, 13 September 2009, 4pm: Super Den Meeting; Annual Kickoff (all grades)


October 17th & 18th, 2009: Patrol Challenge (5th – 12th graders)
Sunday, 18 October, 2009: Jamboree on the Air
Sunday, October 25, 2009, 3 – 5 pm: Super Den & Troop Meeting
November 8, 2009, 1 – 6pm: Merit Badge Midway, Temple Beth Hillel, 12326 Riverside Drive, Valley Village
Saturday – Sunday, November 14 – 15, 2009: Fall Campout (all grades)
Sunday, December 6, 2009, 4 – 6 pm: Super Den & Troop Meeting
Sunday, January 10, 2010, 4 – 6 pm: Super Den & Troop Meeting
Sunday – Monday, Feb 14 – 15, 2010: Winter Campout (all grades)
Sunday, March 7, 2010: Build Pinewood Derby Cars (1st – 5th grade only)
Sunday, March 21, 2010: Pinewood Derby Race (1st – 5th grade only)
Saturday, April 17, 2010: Scout Shabbat & Lunch (all grades)
Friday – Sunday, May 28 – 31, 2010: Spring Campout (all grades)
Sunday, June 13, 2010: Super Den Meeting & Year End Awards (all grades)
Sunday – Monday, July 4th – 5th: Summer Campout (all grades)
August 15 – 22: Catalina Island: Week Long Summer Camp (6 – 12th grade only)