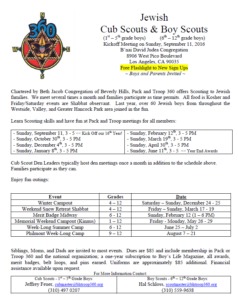 Welcome to the website for BH Troop 360.  2016-2017 is our 15th year!
Events are kosher & sabbath observant.
Under the religious auspices and rabbinic guidance of our sponsor synagogue, Congregation Beth Jacob of Beverly Hills.
Our complete Pack & Troop 360 Policy Manual, revised September 2010
Annual fees are $85/year, as of 2016-2017, which include all patches, awards, beltloops and a subscription to Boy's Life magazine.  This fee does not include uniforms.  There are nominal additional fees during overnight outings to cover kosher food and campsite fees, typically $20/person.
Posting Guidelines: No full names, addresses, phone numbers of scouts or leaders.
Get the flyer for our annual Kick Off Event on September 11, 2016.
It contains the tentative schedule for this year.