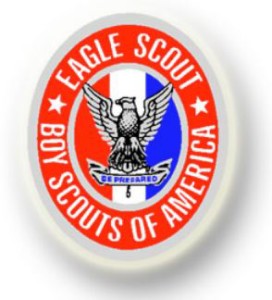 Eliyahu Chaim Gross — Troop 360 Eagle Project – June-July 2015

Beneficiary: Hatzolah of Los Angeles
Description:  Improve neighborhood safety by publicizing the specific locations of nearby Automated Electronic Defibrillators (AEDs).   Coordinate "walking teams" of volunteers to survey storefronts and businesses in the neighborhood along primary pedestrian thoroufare (Pico Boulevard) to determine existing locations, gain permission of same to allow the display of a placard in their front window. Coordinate "walking teams", purchase the parts, print and assemble the placards under the auspices of the beneficiary and then to distribute and affix them so pedestrians can see them. Manage the Troop webmaster in creating a Smartphone-accessible online map that also has a form for deletions, creations and changes. Contact media and local congregations to enable publicity of the project. Attempt to get a volunteer or more from the Troop who is willing to help maintain the project so that it remains useful for years.
Backstory: Inspired by the untimely passing of a family friend at a wedding held in a hotel, it took nearly 20 minutes for an ambulance to arrive.  While physicians among the guests were present and performed CPR, there was no known defibrillator in the vicinity.  Perhaps there was one at the concierge's desk?  Perhaps there was one at the adjacent building?   Knowing where there are such lifesaving devices may prolong life long enough for Hatzolah or another ambulance to respond.  We hope this Eagle project will be successful and will inspire others to replicate it in their neighborhoods.  It is in the memory of Dr. Joel Schwartz, Yoel ben Avraham, a"h.
Date: Mid June – Mid July 2016

Click to view bigger map of Pico Blvd for the Eagle Project

Volunteers Needed (12-40):  General description of tasks:   There are approximately 150 storefronts along Pico Boulevard from the Museum of Tolerance to Mesivta Birkas Yitzchok, plus 40 nearby synagogues and hotels in the neighborhood.  Depending on the number of volunteers, teams of two or more volunteers will divide the list of businesses.  If we get 20 volunteers, 10 teams will be divided to survey approximately 19 storefronts each.  If we get 30 volunteers, 15 teams will be divided to survey approximately 12 storefronts each.  The more volunteers, the better.
Tasks:

Distribute a flyer describing the project to a business owner or responsible employee.  Get contact information.
Ask if they have an AED or know where the closest one is and record the information and contact information.
If they have an AED, would they be willing to make it available to the public during an emergency during business hours?
If they don't have an AED, give them a flyer on how to purchase (we're not selling them) and ask them to contact us if they decide to purchase.
Ask if they would be willing to display a laminated flyer in their storefront/business front showing where the closest AED may be found during business hours.
Thank them for their time.
Record on survey, who they spoke to, contact info, and keep to return to Eagle project manager after done with the walking tour.

Are you a student or scout or adult who needs to record "volunteer service hours"?  Please sign up.  Imagine taking part in a project that may save a life!

Dates of walking tours:  Friday, June 26, 10am-2pm and Sunday June 28, 10am-4pm.
---
Support Troop 360 Eagle Projects