Pack and Troop 360 use the uniform shirt (with appropriate patches), neckerchief, neckerchief slide, belt, and age appropriate handbook.
Uniform pants, socks, patch vest, and any other items are optional.
Rank badges, activity patches, awards and beltloops are provided by Pack/Troop 360.
We are building a Pack/Troop "gmach" to facilitate the reuse of handbooks and uniforms to help keep costs down.  Details to follow.
Online: http://www.scoutstuff.org
Nearby Scout Stores (click address for Google Map):
West Los Angeles Scout Store
10131 National Blvd (on National between Palms and Motor)
(310) 839-9905
Monday-Friday 10am-6pmView Map

Los Angeles Scout Store
2333 Scout Way (near Temple and Alvarado)
(213) 353-9879
Monday-Friday 8:30am – 5pmView Map

Valley Scout Store


16525 Sherman Way (at Hayvenhurst), Van Nuys


(818) 781-1296View Map
EBAY
Good deals on many scout uniform items may be found on EBAY.  Handbooks should be the CURRENT edition (use the ScoutStuff link above, for reference).  If buying a lightly-used uniform shirt, it's advisable to avoid shirts that have had many patches previously affixed via sewing or adhesive.
Clicking any of the following links MAY display a bargain, but there is no guarantee.  You will also be paying for shipping and handling.
Tiger Uniform (hat, belt, kerchief, neck slider)
Wolf Uniform (hat, belt, kerchief, neck slider)
Bear Uniform (hat, belt, kerchief, neck slider)
Webelos Uniform (hat, belt, kerchief, neck slider)
UNIFORM GUIDELINES
Hoping that a picture can say 1000 words, the images below may help in where to place patches, either by sewing or using a product like BadgeMagic, available in Scout Stores, which are like double-sided adhesive tape.
Cub Scout "Blue" – Pack 360
Webelos Khaki – Pack 360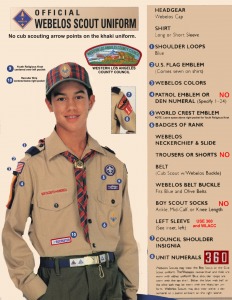 Click for larger version showing placement of insignias and patches.
Troop 360
Image coming soon.

Almost identical to the above Webelos uniform, except:
Olive, not dark blue shoulder loops.
Boy Scout belt
Troop 360 Neckerchief
Boy Scout Hat
Boy Scout Neckerchief Slider
Patrol logo, not "colors" on right sleeve
Current Boy Scout rank in "oval" location on left pocket.