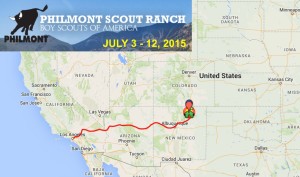 Philmont campsite details:  http://www.scouting.org/Philmont.aspx
Training Schedule:
February 15-16: President's Day training. This is the closest thing we have to a full dress rehearsal.
Philmont Schedule:
July 1: Depart Los Angeles
July 2: Arrive Philmont
July 3-4: Shabbat at Philmont base
July 5: Training at base
July 6: Expedition Starts!
July 10-11: Shabbat at Philmont base
July 12: Depart Philmont for return to Los Angeles
July 13: Return to Los Angeles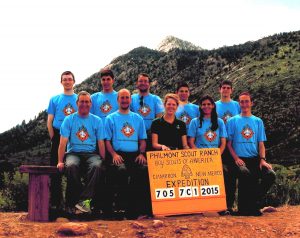 Inside Jokes (thanks "A.K."):
Fitty
Da moose
Sponge bob
Ranger will
Tooth of time
I pooped today
Ice water
Lord snew snew
Smellable
2 piece trash
The walrus
Tradezies
Peaches
The fellowship
Mr schloss's boots
Bear bags
Lottice
Bus tour
Mini bears
Ranger zip lines
Red roof
Philmud
Oohh ahhh shiny special
Valball
Adawadle
Crazy s
Star and circle brands
Todd
Risk
My own meal
Pilot gunner
Yall
Sugar drinks
Rubix cube
Riddles
AG Photos:
HS Videos:

HS Photos:
SK Photos:
---
Post-Philmont gear and training tips from the troop…
A16 offers a 10% discount if you show your BSA ID card:  http://www.adventure16.com/
Maps:
Supplies:
10 Essentials:

Gear:

Backpack (suitable for carrying 50lbs)
Sleeping Bag (nighttime temperature range at Philmont in July: __ to __ degrees)
Lightweight sleeping pad (optional)

Clothing:

Hiking boots (don't skimp)
Hiking socks (don't skimp)
There is only one Amtrak train.  Depart on Wednesday for Thursday afternoon arrival.  Arriving on Friday will be insufficient for setting up eruv and camp for Shabbat.