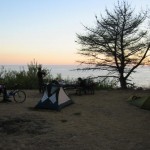 Pack and Troop 360 4th of July Campout
Now Open For Registration
Fellow Members of Pack and Troop 360:
For quite a few years we have celebrated the 4th of July together though recently we have been unable to camp out because the legal holiday fell on a day that didn't work.  This year, the 4th of July holiday is on Monday and we have a terrific campsite just steps from the beach in Santa Barbara County.
The location is El Capitan State Beach. This is a public campsite but we have a separate area to ourselves. It is large and features flush toilets. I have tried for years to get this site but until now have been unsuccessful.
El Capitan State Beach is approximately 2 hours drive from Beth Jacob Congregation (111 miles).
Our 4th of July campout tentatively runs from Sunday July 4th at 2 PM to Monday July 5th at 2 PM. The cost is $20 per person and includes:
Three Kosher meals plus campfire snack
Campsite for an enjoyable night of camping
Sunday night campfire
Lots of Cub and Boy Scout programming
Registration is now open.  See the registration form on the following link: 2010 July 4th Flyer.