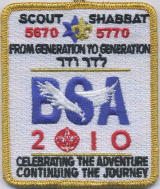 Pack and Troop 360 Cub Scouts, Boy Scouts and their families are invited to attend Scout Shabbat on Saturday April 17, 2010.  Scouts should arrive in uniform or synagogue attire.  Adult leaders should wear regular Synagogue attire.  Each year, Congregation Beth Jacob honors our unit at a special Shabbat service called "Scout Shabbat."  Our Scouts will perform various parts of the service.
After the service join us for a special Shabbat Lunch with food from Pico Kosher Deli.
There is no fee or reservation required to attend services but they are required for the lunch afterward (see below for on line reservations and payment information).
Communal Lunch, Shabbat April 17
Pico Kosher Deli Platters
SPACE WILL BE LIMITED DUE TO THE SIZE OF THE ROOM.
(First come – first served, in order of PAID reservations received, but we'll give priority to paid up out-of-towners who don't live in the 'Hood.)
Place: Teen Lounge (downstairs at Beth Jacob)
Time: Shacharit starts at 8:45am.  Lunch at approximately 12:30 pm (following kiddush being co-sponsored by Pack & Troop 360)
Cost: $10 for kids (6 – 12 years); $15 for adults.  Children under 6 may attend at no charge.
Pay Below Using Your Credit Card on PayPal
or
SEND YOUR CHECKS MADE OUT TO "PACK 360" WITHOUT DELAY to:
Scott Sobel
8350 Wilshire Blvd., Suite 200
Beverly Hills, CA 90211
QUESTIONS?  CLICK TO EMAIL SCOTT or call Scott at (310) 422-7067.
RESERVATIONS ARE NOW CLOSED