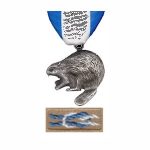 The start of 2012 has brought Jewish Scouting some exciting news.
We are extremely proud to announce that Sanford Weinberg has been elected to receive a very special honor for his tremendous work in Boy Scouts. The Silver Beaver is the highest award given by The West Los Angeles County Council. This distinguished award will be presented to Sanford at the Council dinner on January 26th at 6:30 PM. Over 600 people are expected to attend.
Sanford, himself an Eagle Scout, has served Pack and Troop 360, Crescent Bay District, and the West Los Angeles County Council since 2003.  He founded Venture Troop 360 and has earned The Shofar Award, Silver Dolphin, Silver Scouter, and Extra Miler awards.  Sanford has been a Tiger, Wolf, Bear, Webelos den leader, Assistant Scoutmaster, and Crew Advisor over his years as a scouting leader.  His work on Kinnus has enhanced that event for years.  Sanford's leadership is not confined to Boy Scouts either; he is also an active leader in two Girl Scout units.  Additionally, Sanford has assisted our Council and District on many initiatives.
Sign up at http://bsa-la.org/index.php?page=open-registrations. The cost per person is $65 including a kosher dinner.
Congratulations Sanford on a well deserved honor!
Learn more about the Silver Beaver Award http://en.wikipedia.org/wiki/Silver_Beaver_Award
Photographs from the evening: