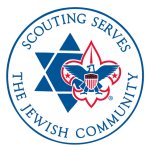 WESTERN LOS ANGELES COUNTY COUNCIL
JEWISH COMMITTEE ON SCOUTING PRESENTS
Kinnus Weekend
May 24 – 27, 2013
Kinnus (Hebrew for "gathering") Weekend returns on May 24-27th, 2013. Registration is now open for the three events that make up Kinnus Weekend.
Tiger Cubs, Cub Scouts, Webelos, Boy Scouts, Venturers, Girl Scouts, and their families are invited to experience Jewish Scouting including tons of activities, campfires, and kosher food. Jewish Scouts of all denominations and non-Jewish Scouts and their families are invited.
Kinnus weekend has two parts. The second part, The Kinnus Overnight runs from Sunday, May 26th at 10 AM through Monday, May 27th at 2 PM. The cost is $45 per person and includes:
• Four Kosher meals plus campfire snack
• Campsite for an enjoyable night of camping
• Sunday night campfire
• BB guns, crafts, and lots of other child friendly programming
2) Shabbat campout on May 24-26: From 6pm on Friday May 24th through Sunday morning. Orthodox Shabbat observance includes full services and Torah reading Saturday morning and a relaxed, unprogrammed afternoon. The cost for the Shabbat campout is $60 per person and includes 5 kosher meals, a campfire, and two-night campsite. Contact Stan Friedman at (213) 629-1500 or friedman03@aol.com for more information. Out of respect for all, Shabbat campers must arrive prior to 6 PM in order to have enough time to pitch their tent and otherwise prepare for Shabbat in time.
These events take place at beautiful Camp Josepho in the Santa Monica Mountains just 30 minutes from the 405 at Sunset Boulevard and is now open for registration.  Jewish and non-Jewish Tiger Cubs, Cub Scouts, Webelos, Boy Scouts, Venturers, Girl Scouts, and their families are invited.
Registration is now open until May 12.
Complete the registration form on pages 3 – 10. 
CLICK HERE TO DOWNLOAD.
Registration and payment are due no later than May 12th.
To receive e-mail updates about this and other JCOS events, become a part of JCOS' Yahoo Group. Enroll by visiting http://groups.yahoo.com/group/WLACC-JCOS and clicking "Join This Group".
Tentative Schedule, Sunday May 26:
Check in, Pitch tents: 10:00 – 11:30
Opening Ceremony, 11:30 – Noon
Lunch, Noon – 1:00
BB guns, 1:00 – 5:00
Craft projects (lanyards, fuse beads, leather crafts), 1:00 – 5:00
Girl Scouts My Promise, My Faith Badge, 1:00 – 2:00
Horse Care (additional charge), 1:30 – 2:15; or 2:30 to 3:00; or 3:30 – 4:15; or 4:30 – 5:15
Fencing Lesson, 2:30 – 4:00 (additional charge)
CPR Training, 2:00 – 5:00 (additional charge)
Animal Show, 3:30 – 5:00
BBQ Hamburger and Hotdogs, 5:30 – 7:00
S'mores at the Firepit, 7:00 – 7:45
Evening Services, 7:45 – 8:15
Campfire, 8:30 – 9:30

Skits
Sanford's "Scary" Story
Songs
Jewish Committee on Scouting Awards
Monday, May 27, Tentative Schedule:
Reveille, 7:00
Morning Prayers, cereal for children 7:15 – 8:30
Breakfast for all in the lodge, 8:15 – 9:00
Flag ceremony at the Amphitheatre, 9:15 – 9:45
Girl Scout Scavenger Hunt, 10:00 – 11:00
Science Workshop, 10:00 – 11:00
BB guns, 10:00 – Noon
Double Dutch Jump Rope, 10:30 -11:30
Decamp 11:30 – 12:00
Dairy Lunch, Noon – 1:00
Clean Camp, 1:00 – 1:30
Closing Ceremony, 1:30 – 2:00

Good citizenship / Mitzva Awards
Patches presented
Driving Directions from 405 Freeway — NOTE:  Do NOT rely on Google Maps, Mapquest or other online maps for driving directions.

Take the 405 San Diego Freeway and exit at Sunset Blvd
Take Sunset Blvd. west toward the beach. (The freeway exit might lead to another street, follow the signs until you get to Sunset and take it toward the ocean).
You'll travel on Sunset for just over 3 miles.
From Sunset Blvd. turn right on Capri Drive.
You will get to a round-about. Take it around until you find Capri Drive again, it will be a near straight continuation, slightly to the left. "11 o'clock".
Stay on Capri Drive until the end and turn left on to Casale Road.
Casale will curve around the hill and turn into a dirt road.
You will come to a gate to enter Sullivan Fire Road. The road is gated with regularly changed gate codes required for access. 

You will receive your gate code by email before Kinnus.

The fire road is open to hikers and cyclists. There are a number of blind curves on the road, and, for safety, drivers must extend courtesies to other people on the road. The speed limit on the road is 10 m.p.h.
Drive on Sullivan Fire road for about 1.8 miles.
The entrance to Camp Josepho Boy Scout Camp will be on your left, marked by a wooden arch.
Turn left and drive down the road to the camp at the bottom of the hill.
Park as directed
Driving Directions from the PCH Side
If you are coming from the PCH side of the world, get on Sunset going east toward Brentwood. You can take Sunset from PCH or take the Temescal or Chataqua short cut to Sunset from PCH. Once on Sunset drive until you get to Capri Drive and turn left. Then follow the Driving Directions above from that point on!